Dave Jordan Band
"...one of New Orleans' great songsmiths and bandleaders of my generation" - Marc Stone Musician and DJ at WWOZ
Dave Jordan is an award-winning, critically acclaimed, roots rocker from New Orleans. For over 20 years he has been a staple of the New Orleans music scene, and his work has been described as "the personification of the New Orleans ethos."
Before becoming a "solo" artist, he was the bass player/lead singer/founder of the funk band Juice. From the mid/late '90's til late '00's, Juice released 3 albums and were, like contemporaries Galactic, Iris May Tango and All That, part of the resurgence of New Orleans funk music. From 1999-2003, they toured relentlessly, averaging over 180 dates annually. They were recipients of 2000's Best of the Beat Awards for Best Emerging Funk/Soul/R&B Band and later nominated for Best Roots Rock Band and Album.
He has recorded or performed with a host of New Orleans luminaries, including Art and Cyril Neville, Anders Osborne, George Porter, Joe Krown, Johnny Vidacovich and countless more.
His 2010 solo debut release, These Old Boots, co-produced by Grammy-winning songwriter/producer Anders Osborne, was named a Top 10 record of the year by the Times-Picayune.
"...like a rustic, Cajun Paul Westerberg, mixed with a Springsteenian sense of wordplay." - OffBeat Magazine
"...sublime." - Keith Spera Nola.com
His 2013 follow up, Bring Back Red Raspberry was compared to everything from the Rolling Stones' Exile On Main Street to Tom Petty to John Prine. Hittin' The Note magazine called it "a polished, hook-heavy gem."
"..runs the gamut of southern roots sounds, most played with rock's edge and a luxurious lack of urgency." - My Spilt Milk
"...stripped-down roots rock, as comfortable in the corners of rowdy pubs or smoky blues holes." - Gambit Weekly
After the release of BBRR, Jordan returned to nationwide touring, focusing mostly on the Gulf Coast down to Key West and extended tours in Colorado. Described as "Southern roots rock with a Louisiana soul," his band, dubbed the Neighborhood Improvement Association, is a rotating cast of some of the finest, most in demand roots rock, funk and blues musicians in New Orleans.
In 2017 the band was nominated in offBeat Magazine's Best of the Beat Awards for Best Roots Rock Band and Album, for their 2016 release, No Losers Tonight. Produced by Jeff Watkins (James Brown, Joss Stone, New Orleans Suspects), it features 10 originals, honed and crafted from the band's 4 years of touring.
"Jordan is a dynamic songwriter, crafting tunes that run the gamut from uptempo rave rockers to mid-tempo soul groovers and wistful ballads." - The Vinyl District
"unshakable confidence that is musically refreshing." - Live For Live Music
He has been featured in numerous local, regional and national publications including offBeat, Times-Picayune, Gambit, Hittin' The Note, An Honest Tune; as well as NPR, Raw Travel and every local television station. He is also featured- along with Tab Benoit, Dr. John, Aaron Neville and more- in the Voice of the Wetlands television commercial, promoting the awareness and education of rebuilding the LA Gulf coast. 2018 also marks his 10th consecutive appearance at the Voice of the Wetlands Festival.
Along with his involvement with VOW, Dave is active in various organizations in the New Orleans community, including multiple events with the Team Gleason Foundation and 4 years as a featured guest teacher with Upturn Arts summer art program. Most notably though, is his work with the New Orleans Musicians Clinic. Besides being featured in their print ad campaign, Dave is the producer of Jamie's BigAss Party, an annual event honoring the legacy and memory of his former bandmate and friend, Jamie Galloway. Now in its 7th year, the block party/crawfish boil, held at the Maple Leaf, has raised over $100,000 for mental health services provided by NOMC.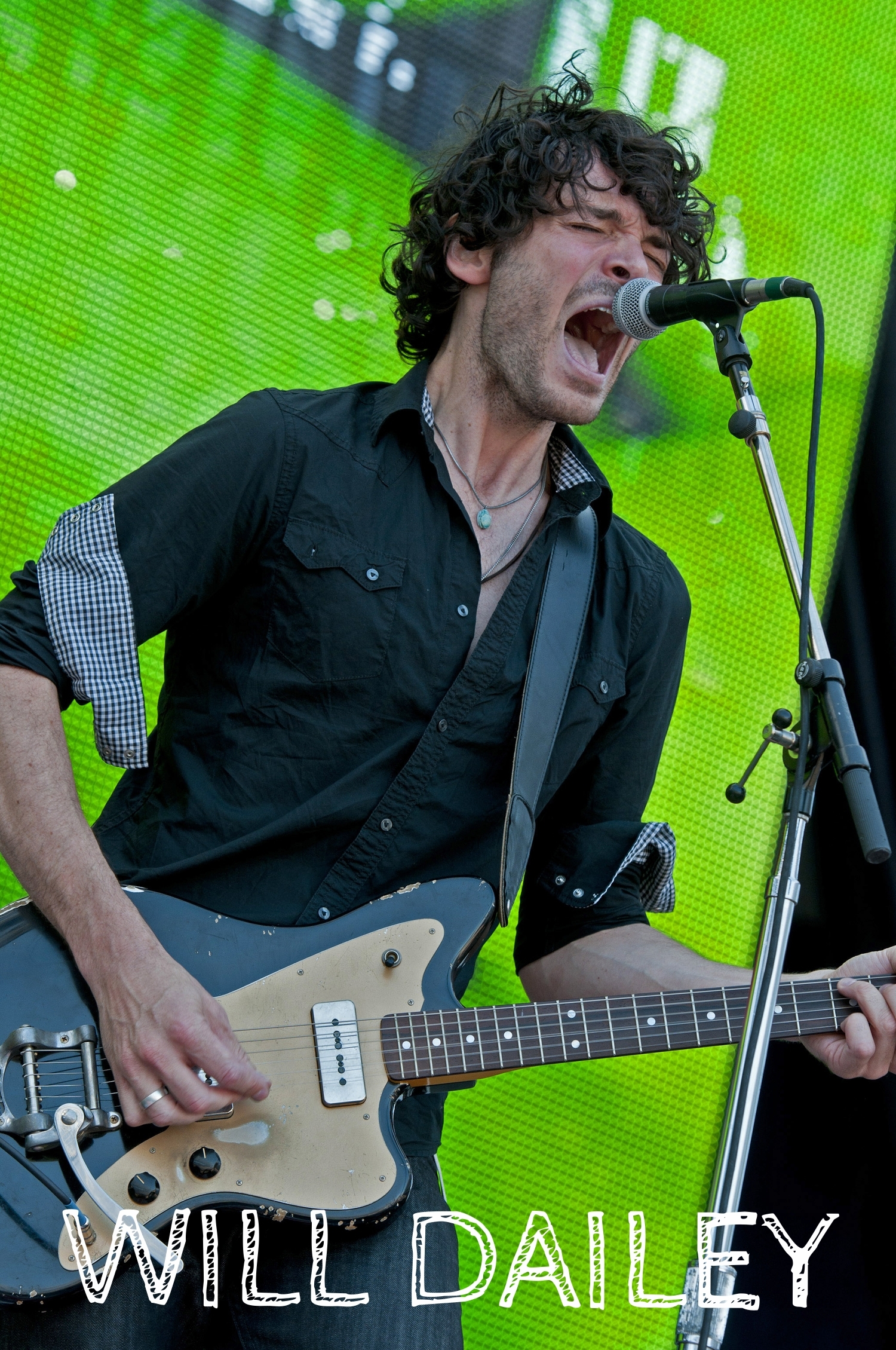 Indie Rock - Americana - Songwriter
Will Dailey is an acclaimed independent recording and performing artist. His sound has been described as having a rich vintage vibe while having a firm appreciation of AM rock, pop and big hooks leading famed Rock journalist Dan Aquilante to call him "the real deal".

Dailey's latest album, National Throat, has been met with stellar reviews, over 8 million spins on Spotify, top 20 on Billboard Heat Seeker chart and won Album of the Year in the Boston Music Awards, New England Music Awards and Improper Bostonian Magazine.

Dailey, who is already a three-time winner of the Boston Music Award for Best Singer/Songwriter also won Artist of the Year in 2014.
Jules Leyhe
It's hard to find a true blues guitarist in today's musical landscape, but that's exactly what you get with Jules Leyhe. Armed with a degree in Guitar Performance from the esteemed Berklee College of Music and with the soul of a musician three times his age, Leyhe combines classic blues guitar with modern electronic instrumentation and creates a sonic mesh you'll surely feel in your core.
Named one of Guitar Player Magazine's 12 Players of Christmas in 2014 as well as July of 2018 as well as the Bay Area Blues Foundation's All Stars in 2015, Leyhe has already shared the stage with many of Blues' greatest talents – including Buddy Guy, Fantastic Negrito, Charlie Musselwhite, Chris Cain, Jimmy Vivino, Barry Goldberg, Nick Gravenites, Elvin Bishop, and Maria Muldaur.
Leading his band and as a sideman, Leyhe has been taking over the San Francisco Bay Area one venue at a time. Jules performs everywhere from the seminal Boom Boom Room to the Sweetwater Music Hall, The Great American Music Hall, Slims, and continually sells out performances at the famed Biscuits & Blues.
Southern Rock - R&B - Americana - Soul
With their latest single "bottle in my Hand" being exclusively premiered on PopDose, Big things are in the works for the hardest working band in South Carolina, Tastes Like Chicken. Listen Here on Spotify!
Background
TLC began as a band in 2010 for a Halloween show in their hometown of Florence, SC. Due to the response from that show other venues came calling and they have since played hundreds of shows throughout the Southeast. Evidence of what influences shaped Tastes Like Chicken's sound is a bit of challenge to pinpoint. Thus, when someone once asked, Frontman, Lance Shirley to describe his band's sound, he said... "Well, It kind of tastes like Chicken." Thereafter, that's what people referred to them as and the band had found its' name. The band's quintessentially Americana sound was borne out of myriad genres of music including Jazz, R&B, Country, Soul, Hip Hop, Gospel and Southern Rock. Collectively, they are heavily influenced by myriad genres of music (jazz, r&b, country, soul, hip hop, and Gospel). Starting out in Florence, SC they have since become a fixture on the music scene around the state playing upwards of 200 shows and area festivals a year.
Tastes Like Chicken prided themselves on their musicianship, audience engagement and original songs. They have an uncanny ability to take other people's music and add their original twist. Their time spent playing is evident in their vocal harmonies and supremely tight sound, with a saxophone as their lead instrument.

They have built up a large following and in 2012, they were named THE BEST BAND IN THE PEE DEE by the Florence Morning News. Tastes Like Chicken band members have had the pleasure of sharing the stage with artists like Sister Hazel, Lee Brice, Boyz II Men, Edwin McCain and The Blue Dogs.
Their debut album, "Don't Tempt Me" (2012) is still a hot commodity at their shows and fans buy their CDs as much today as when they first released it. In 2016, Lance and Chad began writing in earnest and got the whole band back into Southern Harmony Studios in Florence, SC. Their first single, "Bottle In My Hand" was released on June 23rd with their sophomore album, Heartaches and Hangovers dropping on June 30th.
Southern Rock - Americana - Soul
True connection can only come about through pure, honest expression. It comes from knowing how to find a truth within and having the courage to unabashedly share it. As a singer-songwriter, Danielle Howle is a natural storyteller, and she makes the biggest impact by sharing simple truths. Her music comes from a place of self-awareness and is a perpetual journey of self-discovery. She balances powerful style with conversational lyrics, sharing her honest experience of life.
Known for captivating audiences with her stunning vocal ability, contagious energy, and incredible songwriting skills, Danielle's music ranges from country swamp blues to jazz to Americana. The South-Carolinian song bell has been compared to Flannery O'Connor, Patsy Cline, and Nina Simone, with The New York Times calling her "an extraordinary mind, a southern storyteller with a gorgeous sense of melody that should be pouring out of stereos everywhere."
An effortless, but deeply compelling performer, Danielle's command of music is astounding; her intelligent writing deftly scales anything from ballads to rap to heavy rock. She combines introspective folk singer, sultry country twang, and spontaneous, bitter wit to surprise and enchant in equal measure. Her sound contains definite influences from folk, country, and southern rock, but as a self-taught musician Danielle defies traditional structures, intuitively creating music that shines with her own idiosyncratic style.
Danielle has demonstrated prowess at every turn of her career, from her early band days to the eclectic acoustic and electronic detours she's taken since; with a career spanning twenty years, she's covered a lot of ground. Beyond her life as a singer-songwriter, she's turned her hand to successful production, collaborations with filmmakers, and a variety of commercial work. Danielle has an incredibly diverse range, the only constant perhaps being the beloved guitar she shares her stages with.
Danielle has opened for an array of acclaimed musicians such as Bob Dylan, Janis Ian, The Avett Brothers, and Fugazi. She's headlined countless shows and festivals twice played at the New York Music City Hall and has sold out rooms across the country, followed always by her ardent fan base. Well acquainted with being on the road, Danielle has toured extensively. She's played at Sarah McLachlan's Lilith Fair, and has toured with Elliott Smith and Ani DiFranco, with Ani having described her as "a melodically nimble being."
Danielle has rolled into 2017 with guns blazing, having most recently been on tour across the country with the Indigo Girls, and with a new live album recorded with her band. Four of Danielle's numerous albums have been released on Amy Ray of the Indigo Girls' indie label, Daemon Records, with other releases on Simple Machines, Edisto Records, and Kill Rock Stars. Danielle's latest EP, Pot of Water, is out soon off the back of this most recent tour, and sits more as a collection of sonic experiments, pairing a number of different producers, studios, and techniques, including a track mixed by Grammy award-winning producer Malcolm Burn.